My Travels Through India: Our Trip Starts in Delhi
Our Chief Experience Officer, Melissa Hansen, recently took an unforgettable bucket-list vacation in India. Over the next few weeks, we'll be sharing her travels — and some of her photos — with you here on the blog. Enjoy!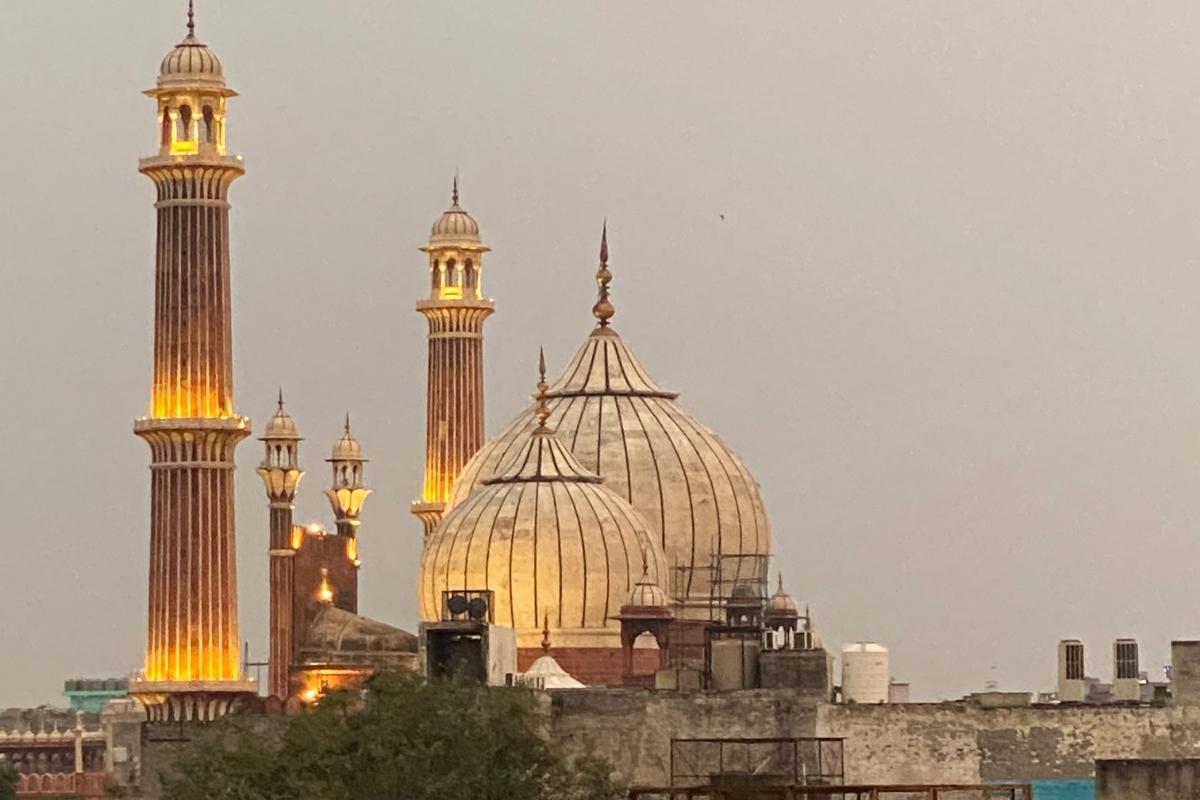 Our Trip Starts in Delhi
Fifteen years ago, when I was working at a luxury travel club, my colleague and I pitched the idea of sending our affluent travelers to India. With a collective grimace from our higher-ups, we were met with this question: "Do you really think our travelers are ready for the sights, sounds, and smells of India?" And with that, I knew, without a doubt, that I HAD to go to India to see for myself why the very mention of it elicited that response.
In the weeks leading up to my trip, I found that the mere mention of traveling to India brought polarizing comments. Some people shared their excitement and interest in visiting India on a future trip, while others would ask why I wanted to go or "aren't you afraid of Delhi belly?" These reactions only strengthened my interest in traveling to India so that I could form my own opinions about the country that seemingly few have traveled to, but many have opinions about.
I flew to Delhi on a United Airlines Dreamliner, a lovely 15+ hour flight direct from Chicago O'Hare International Airport. The flight landed around 9 pm Delhi time, which was perfect timing for me to collect my luggage, check into the hotel, and hit the hay for a proper night's sleep.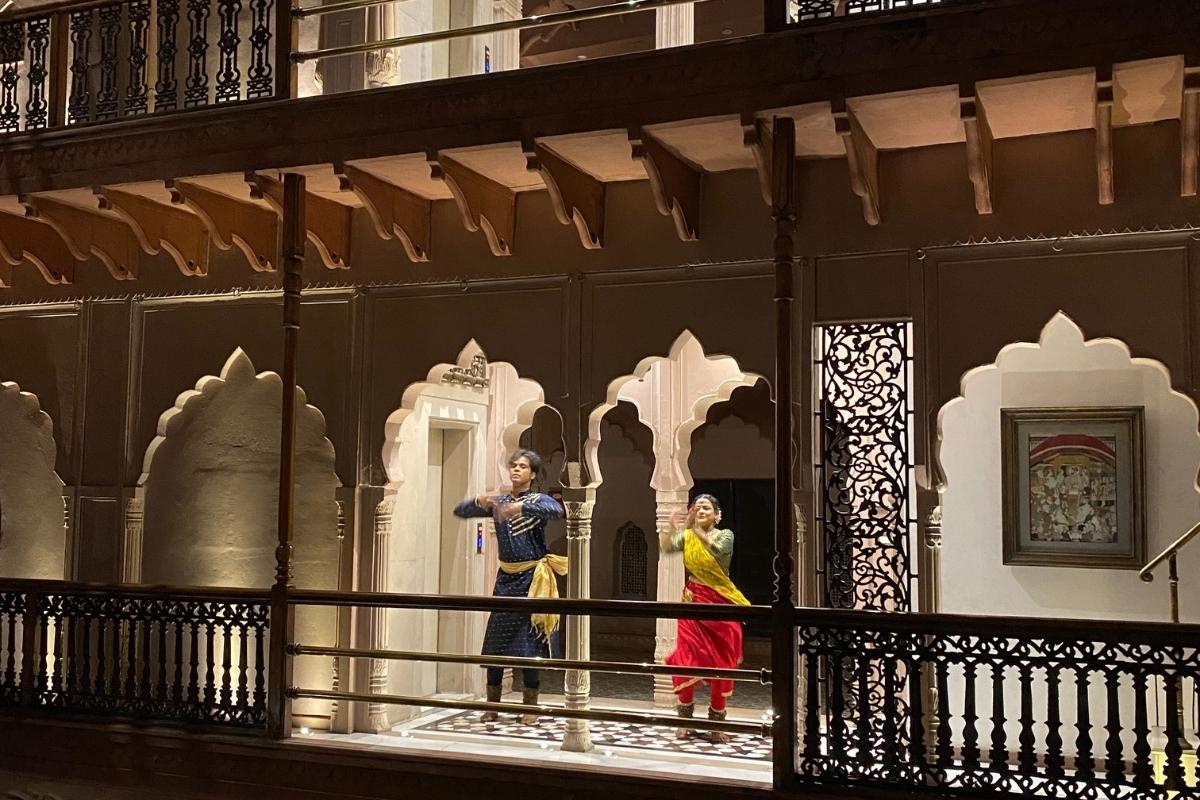 Delhi (or New Delhi)
I awoke feeling like a queen in my upscale hotel room at the Oberoi New Delhi, coincidentally rated the #1 City Hotel in Asia by Travel + Leisure in 2022. In an effort to get on India time as quickly as possible, I popped on my running shoes and headed to the workout room, pleasantly surprised by the state-of-the-art equipment there. I was further pleasantly surprised to find that a small yoga class was just beginning in a private room off the pool area, providing a perfect start to my day.
With my workout complete, I wandered over to 360°, one of the hotel's fashionable restaurants, for breakfast and an early introduction to the delicious flavors of Indian cuisine. Finally, I packed up my bags and headed out to start my India adventure.
My first "adventurous" stop was certainly unexpected — an ultra-exclusive golf club in the heart of Delhi with a 50-year membership waitlist! Here, with the 18-hole, Gary Player-designed Lodhi Course that's part of the Asian PGA Tour, the shorter 9-hole Peacock Course, and a sprawling clubhouse, the Delhi Golf Club plays host to dignitaries from around the world. Though I didn't partake in the golf, I did find myself sipping the most incredible chai at the clubhouse, followed by exquisite Indian cuisine, which I would definitely recommend!
Around 3pm I ventured out with a small group of like-minded travelers, who I would spend the next twelve days and nights with. Together we headed to the Jama Masjid, one of the largest mosques in India, right in the heart of the action. Our fair hair and skin made us popular attractions among the locals; as we meandered around, we were periodically asked to stand center stage in family photos. It was hard to say who was more intrigued by whom. My experience with this newfound stardom was both entertaining and chuckle-worthy.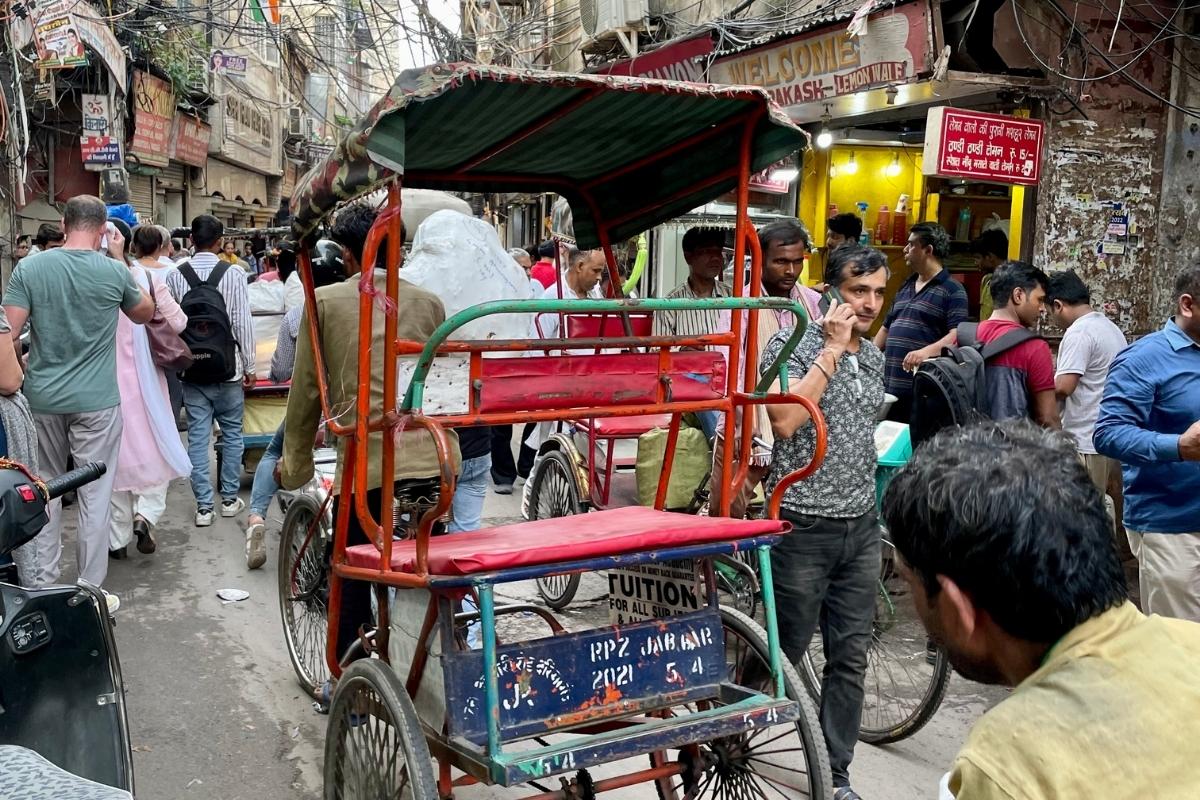 Upon leaving the mosque, we took to the streets on foot to experience the markets bustling with countless spice shops, textiles, trinkets, and street food. The crowded, narrow streets of Old Town Delhi were just as I had imagined — unfathomable quantities of people milling about, foreign modes of transportation that hardly looked roadworthy, incessant honking horns, countless entangled cable wires hanging low from rudimentary rooflines, and smells unfamiliar, and at times unpleasant, wafting through the air. All this said, my senses were alive, taking it all in and, at the same time, in disbelief of the organized chaos that was "just another day" in the lives of Delhi citizens.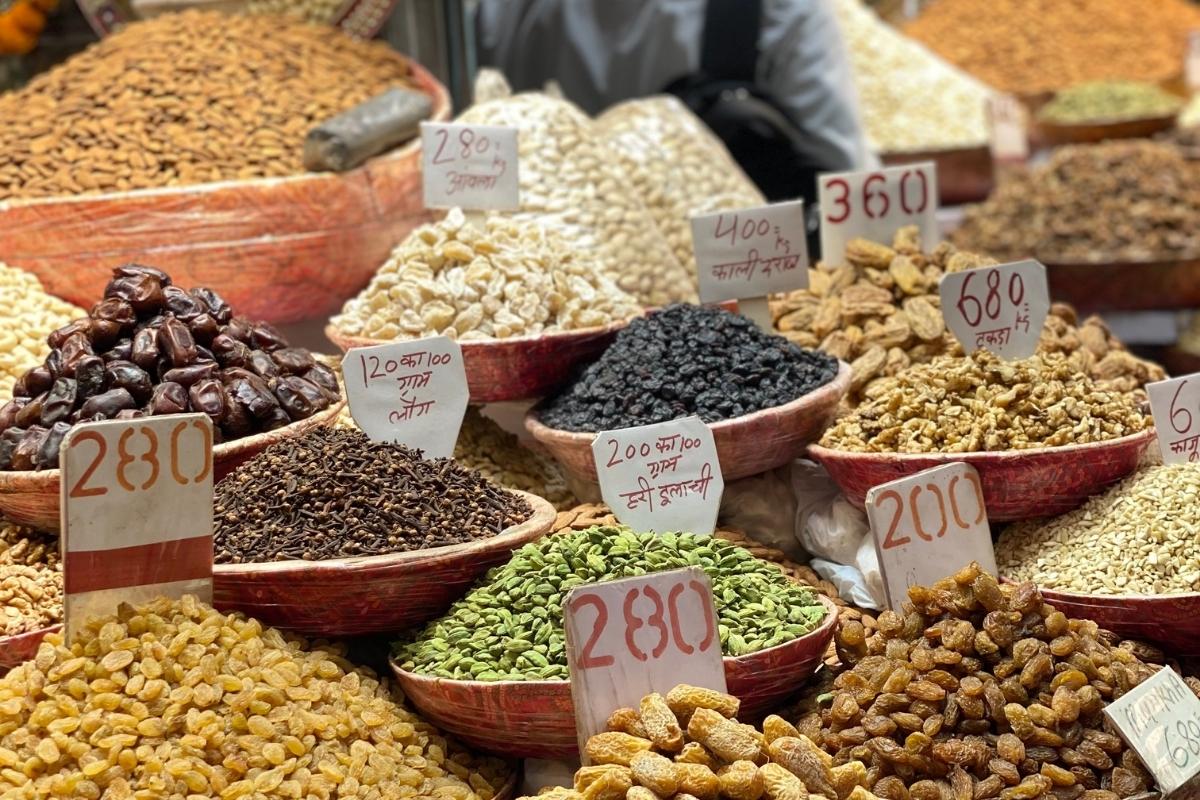 We climbed into the back of rickshaws that were shabby and worn and quickly tucked our arms in as our peddler began the laborious task of weaving through the impossibly crowded streets. As we zipped through the labyrinth, dodging humans and chickens along the way, I watched as monkeys swung from rooflines, rubbernecked when I saw my first cow wandering the street, and was in awe of the beautiful saris that painted vibrant pops of color. Afraid to blink for fear of missing an outstanding second in time, we soon arrived at the quiet Haveli Dharampura, a 200-year-old mansion turned hotel (and recipient of UNESCO's Asia-Pacific Award for Cultural Heritage Conservation), for dinner.
The Haveli provided a lovely respite from the honking horns and crowds that existed outside its heavy wooden doors. It was here that I got my first glimpse of the incredible Delhi skyline. Perched high on the Haveli rooftop we flew a colorful kite in the early-evening wind as other kites from adjacent rooftops took flight. For miles, the rooftops created vignettes of Delhi life as clotheslines were loaded (and emptied), open fire pits burned in preparation for dinner, and as dividers made of sheets were hung in preparation for bedtime. In the distance, the lights of Jama Masjid illuminated the emerging night sky as a teen from the adjacent roof talked on his cellphone. This would be the first of many times where I would be struck by India's juxtaposition of old versus new and of tradition in the wake of modernization.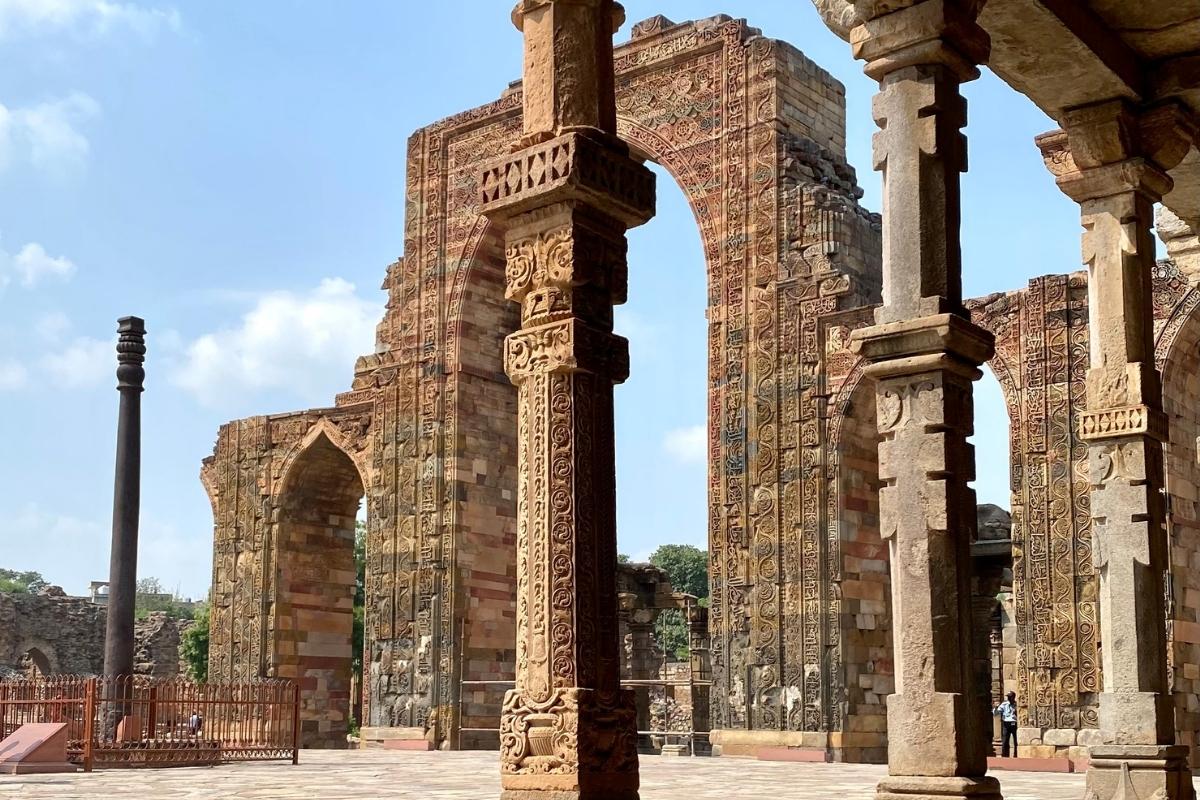 Day two of my trip began with a scenic drive to Qutub Minar to see the world's tallest brick minaret (a tall, slender tower typically attached to mosques that was believed to serve as the pulpit for the call to prayer). This was a quick stop, but a good chance to appreciate incredible craftsmanship and ingenuity.
Next we ventured to Humayun's Tomb, the first garden tomb known to grace the country of India. Sharing similar attributes with the Taj Mahal, which was constructed 80 years later, many say Humayun's Tomb was the initial inspiration for the Taj Mahal's shape and architecture.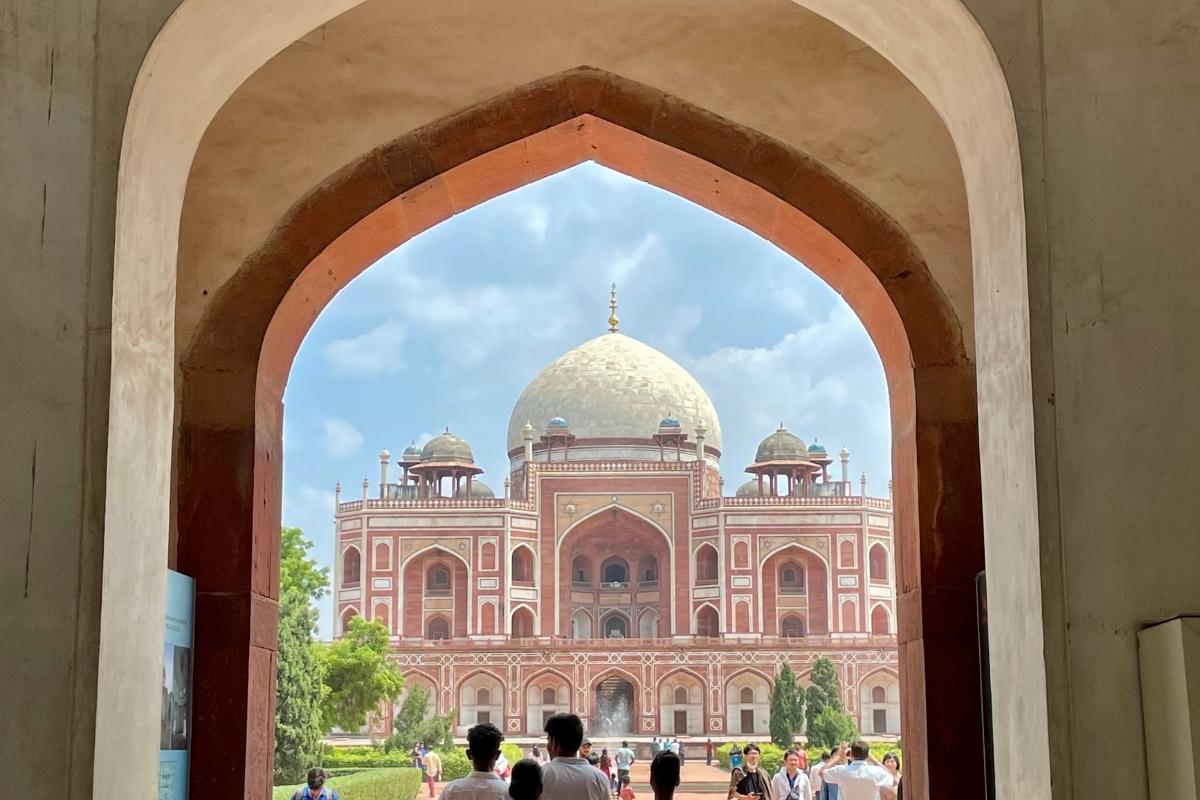 All said, my favorite part of my day was a late lunch at The Spice Route, located in the stunning Imperial Hotel. As you walk inside the restaurant, single file (designed this way as a symbolic reminder that we walk our own path), you are transported into a Southeast temple. From my very first bite, I understood why Condé Nast Traveler ranked it in its Top 10 Best Restaurants in India. Following lunch, we took time to admire the craftsmanship poured into the creation of the restaurant and giggled when we saw the wall carvings depicting Kama Sutra positions — something we would later learn is common on Hindu temples.
Enroute to our hotel for the evening, we stopped by the Kahn Market for a little retail therapy. Here I discovered Anokhi, a Jaipur-based clothing company that was an early trailblazer of the textile block printing phenomenon that put Indian fashion on the map. Pro tip: When you pack for India, my recommendation is to either pack clothing that you're ready to part with and replace with new Indian textiles or bring an extra duffel bag to support your buying haul. Trust me on this one!
Next stop on the journey…Udaipur!
---
Read more about the dynamic cultural scene in Delhi in this NY Times article. And be sure to check in here next week for the next installment in our Travels Through India series!