Glam Meets Grit at Wyoming's Brush Creek Ranch
by Katie Arnold
The final frontier in travel isn't merely about luxury or remoteness, but a sense of flow—that deep ease you feel when one activity rolls effortlessly into the next, when decisions come easily, and just the right experience presents itself at just the right time. You catch sunset on the climbing crag; an owl serenades you at the fire pit. You're tired and relaxed, content and exhilarated in the same breath.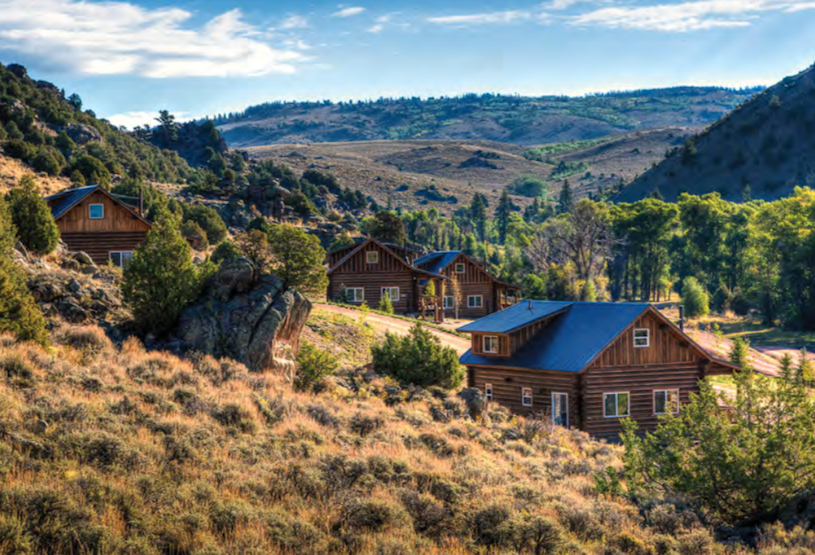 For The Lodge & Spa at Brush Creek Ranch, a spare-no-expense, 30,000- acre hideout in the sagebrush hills of southern Wyoming, flow is a given. Consistently ranked one of the top luxury resorts in the country, Brush Creek Ranch has perfected the art of chilling out while going big, of stepping out of your real life and into the extraordinary. With a bit of advance planning, you can log legitimate three-sport days and still find time to lounge on the porch with a good book. Here's our plan for optimizing your flow—and your trip—in and around Brush Creek Ranch.
Day One
Take in the undulating sage-covered hills view from your historic ranch cabin— many date back to the 1890s, and have been restored in authentic, yet understated Western style—before heading out on foot to get the lay of the land. Nearly 30 miles of trails crisscross the ranch, and you only need to walk a few hundred yards from the main Lodge to find solitude and silence. In the late afternoon, Brush Creek Ranch's seven trout-stocked ponds are a perfect spot for throwing in a casual line or watching the sun dip beyond the horizon. Later, it's cocktails and dinner on the deck at Trailhead Lodge, followed by ranch-distilled whiskey and shuffleboard in the Saloon.
Day Two
Activities abound at Brush Creek Ranch, with two to three sessions per day that you can fill exactly as you like. Jump in with a morning float trip down ten miles of private trout waters on the North Platte River, just 20 minutes from the Lodge. In late May through early June, the river flows high and swift with snowmelt, and casting from the oar boat into the eddies along the banks is a true adrenaline rush. After lunch at the Lodge, an optional guided mountain bike ride or a thrilling high-ropes course earn you lounge time on your deck followed by a nap-inducing massage at the spa. When night falls, don your denim for a Western cookout, horseshoes, and lassoing at Creekside Dinner Camp along Brush Creek.
Day Three
Early mornings are when the single track through the sage is at its finest. We're partial to running the Barrett Ridge trail, or stashing a muffin in your pocket for a sunrise hike to Robber's Roost overlook. After breakfast, meet your guides at the horse corral for a two-hour trail ride through meadows, and cap the day with afternoon rock climbing on top-rope and sport routes ranging from 5.6 to 5.11. You'll have ample downtime back at the cabin before a dressy, adults-only dinner at the Cheyenne Club, part of the resort's newly opened Farm property, where the chef serves ranch-grown organic produce, Brush Creek Ranch-raised American Wagyu beef, and pastries baked on site.
Day Four
Today it's off to Green Mountain, a secluded backcountry basecamp 30 minutes away in the Medicine Bow National Forest. In the winter, skiing guests ride heated Snow Cats to access 1,110 vertical feet of gladed terrain, but come summer, you'll have the forested trails to yourself for hikes through alpine meadows to the Continental Divide. After your hike or ski, unwind with ax-throwing or archery followed by a private dinner and stargazing at the summit yurt. Or opt for a full-day hike on a seven-mile loop past alpine lakes to the 11,993-foot Medicine Bow Peak in the Snowy Range, about 45 minutes east of the ranch.
Either way, four days at Brush Creek Ranch will leave you in a rare state of vacation bliss having experienced a true adventure that was both restorative and rugged.
---
This blog post is an article from Manifest Magazine. Read the digital issue in its entirety here.