by Rachel Walker
Deep in the Colorado high country, amidst the wildflower meadows and jagged peaks of the Rocky Mountains, lie 34 stone and log huts owned and operated by the 10th Mountain Division Hut Association. These intimate and elegant backcountry cabins act as jumping-off points for endless high alpine summer and winter adventures. One of our favorite adventures? Trail running—or hiking—from hut to hut across some of the West's most jaw-dropping terrain.
We tracked down local guide and professional running phenom, Rickey Gates, who designed an extraordinary six-day trip that winds through stands of aspens, to alpine lakes adorned with columbine and ptarmigan, across stunning ridgelines and deeply forested valleys, all of which end at a series of perfectly appointed huts deep in the Rockies.
To immerse yourself fully requires a range of logistics: reserving the huts, trail finding, and most importantly, shuttling gear, food, and your evening cocktail mixes from one hut to another so that your trail time is unencumbered. Don't stress, Rickey's done the work for you. Here's what you need to know, and how to make the most of your trip.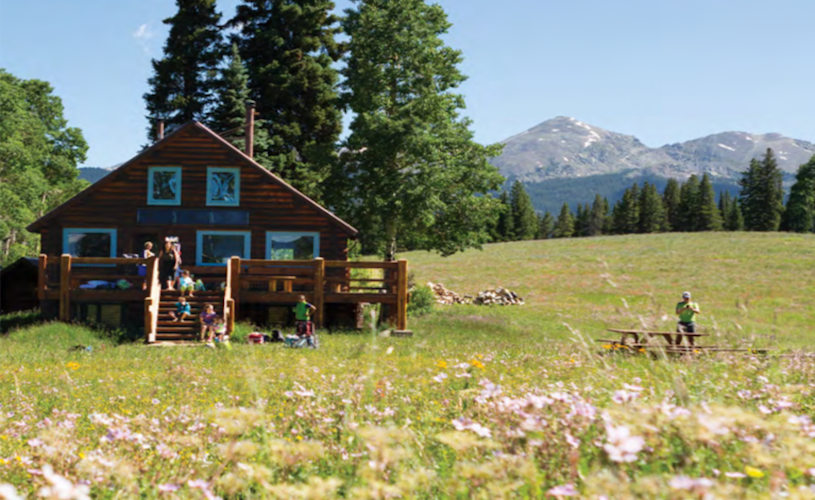 The Huts
Modeled after similar hut systems in the European Alps, these nature-rich hideaways vary in layout and size (they sleep between 6-16 people), but remain constant in charm. True, the rustic nature of these cabins means you'll need to pack in your own food and sleeping bags— and maybe a croissant or two. But what you sacrifice in luxury, you'll make up for in adventure in the form of meandering trail systems across unrelenting high-mountain beauty.
The Guide
Join pro runner, Rickey Gates, on his signature trip called Hut-Run-Hut, a six-day, 100-mile adventure that brings you across unparalleled terrain between Aspen and Vail (2021 trips cost $2,600 per person). With the help of Aspen Alpine Guides, your trip planning will be a zero, and adventure a 10. You can also find other permitted guides, maps, and alternative routes at huts.org if your miles, or desires, differ from Rickey's trip.
The Iconic Route
Although there are several ways to link up different variations of huts, Rickey Gates' Hut-Run-Hut trip follows a breathtaking route along the Continental Divide. Days range from 10-25 miles per day—with a priority of "fun over fast"—and includes some off-trail navigating over terrain that undulates from 8,000-13,000 feet in elevation.
With Rickey's guidance, you'll explore everything the Sawatch and Gore ranges have to offer including chest-deep wildflowers, fairytale streams, above-treeline tundra, and heart-stopping summits. After each day, you'll land comfortably at huts such as Margy's Hut, Betty Bear Hut, Uncle Bud's Hut, Jackal Hut, and Fowler Hilliard Hut.
The Food
After logging miles, it's time to kick back with healthy and nutritious appetizers and a gourmet dinner by a private chef before relaxing in the sauna—only available at select huts—or by the fire with a good book.
To celebrate your final day on the trail, splurge on a delectable dinner in Vail reflecting on your adventure that left you with a Rocky Mountain High.
---
This blog post is an article from Manifest Magazine. Read the digital issue in its entirety here.